Dancing with the stars: Author explains how astrological forces affect our lives
By Glenda Winders, SDUN Book Critic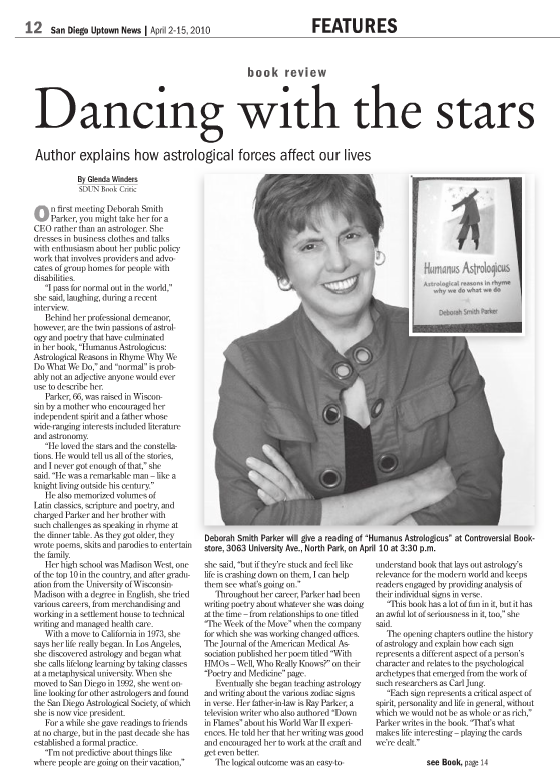 On first meeting Deborah Smith Parker, you might take her for a CEO rather than an astrologer. She dresses in business clothes and talks with enthusiasm about her public policy work that involves providers and advocates of group homes for people with disabilities.
"I pass for normal out in the world," she said, laughing, during a recent interview.
Behind her professional demeanor, however, are the twin passions of astrology and poetry that have culminated in her book, "Humanus Astrologicus: Astrological Reasons in Rhyme Why We Do What We Do," and "normal" is probably not an adjective anyone would ever use to describe her.
Parker, 66, was raised in Wisconsin by a mother who encouraged her independent spirit and a father whose wide-ranging interests included literature and astronomy. "He loved the stars and the constellations. He would tell us all of the stories, and I never got enough of that," she said. "He was a remarkable man -- like a knight living outside his century."
He also memorized volumes of Latin classics, scripture and poetry, and charged Parker and her brother with such challenges as speaking in rhyme at the dinner table. As they got older, they wrote poems, skits and parodies to entertain the family. Her high school was Madison West, one of the top 10 in the country, and after graduation from the University of Wisconsin-Madison with a degree in English, she tried various careers, from merchandising and working in a settlement house to technical writing and managed health care.
With a move to California in 1973, she says her life really began. In Los Angeles, she discovered astrology and began what she calls lifelong learning by taking classes at a metaphysical university. When she moved to San Diego in 1992, she went online looking for other astrologers and found the San Diego Astrological Society, of which she is now vice president. For a while she gave readings to friends at no charge, but in the past decade she has established a formal practice.
"I'm not predictive about things like where people are going on their vacation," she said, "but if they're stuck and feel like life is crashing down on them, I can help them see what's going on."
Throughout her career, Parker had been writing poetry about whatever she was doing at the time, from relationships to one titled "The Week of the Move" when the company for which she was working changed offices. The Journal of the American Medical Association published her poem titled "With HMOs, Well, Who Really Knows?" on their "Poetry and Medicine" page. Eventually she began teaching astrology and writing about the various zodiac signs in verse.
Her father- in-law is Ray Parker, a television writer who also authored "Down in Flames" about his World War II experiences. He told her that her writing was good and encouraged her to work at the craft and get even better. The logical outcome was an easy-to-understand book that lays out astrology's relevance for the modern world and keeps readers engaged by providing analysis of their individual signs in verse.
"This book has a lot of fun in it, but it has an awful lot of seriousness in it, too," she said.
The opening chapters outline the history of astrology and explain how each sign represents a different aspect of a person's character and relates to the psychological archetypes that emerged from the work of such researchers as Carl Jung.
"Each sign represents a critical aspect of spirit, personality and life in general, without which we would not be as whole or as rich," Parker writes in the book. "That's what makes life interesting, playing the cards we're dealt." Subsequent chapters about the sun, moon, Mercury, Venus, Mars, Jupiter and Saturn begin with an overview in prose that explains their importance.
The sun, for example, represents conscious behaviors and actions while the moon indicates unconscious responses. Mercury points to how people use their minds, while Venus shows people what they want and Mars tells them how to get it. Jupiter denotes possibilities, and Saturn is the "heavy" of the zodiac, dealing with restrictions such as time.
The fun begins as Parker outlines in verse the characteristics of every planet in every configuration, such as Jupiter in Gemini, Mercury in Leo, or Saturn in Cancer. The poems are playful, even when their subject is sobering: "Mars in Virgo shows reserve/It keeps them focused, helps them serve/ Even though they like to serve us/Way down deep they can get nervous/That no matter what their stuff/Somehow it's never good enough."
The book concludes with tables going back to 1930 so readers can figure out their own zodiac configurations and focus on the verses that apply to them. Parker hopes her book will raise readers' consciousnesses about astrology and give them further insights into themselves.
"We're complex beings," she said. "We have all kinds of conflicting and competing and complementing elements of ourselves all clamoring for attention. It's like having a committee in your head. I hope people will get a broader awareness of the forces that influence our lives."
But she says there will always be skeptics. "I'm not trying to convert anyone, and I don't want anyone trying to convert me," she said. "I have my viewpoint and other people have theirs, but that doesn't mean we can't talk and find common ground."
Finally, she hopes to turn readers on to poetry. "People got killed off in school by the way it was taught' rigid interpretations and just when you're the most self-conscious having to get up and recite," she said. "Poetry is the primary language of our minds. It's how we learn."
Parker, an Aries, is currently at work on her next book, "Canis Astrologicus," about the role of astrology in the lives of dogs. She lives with her husband of 26 years, Jeff, an Aquarius, in Rancho Penasquitos but spends a lot of time in the Uptown area, which she calls one of the most exciting pockets of astrology in San Diego County.
The SDAS meetings are held at the Joyce Beers Community Center, and her book is sold at Controversial Books, where she will give a reading on April 10 at 3:30 p.m. The book is also available at amazon.com and astrologicuspress.com.
"Life is constantly surprising us with new avenues for learning," Parker said. "I hope people will consider this book one of those avenues."