What's Wrong with These Pictures?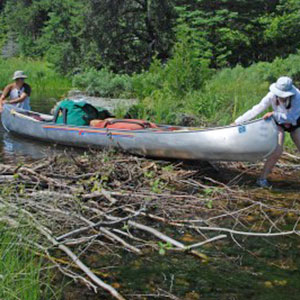 Summer's coming. Time to think about where you're going on that vacation camping trip to rough it. So remember, you're going into the wilderness, not Grand Island or Kennebunkport. Where ever you go just make sure you take the right clothes and equipment—you will get dirty and chances are pretty wet! So don't be fooled by those enticing outdoor clothing catalogs.
WHAT'S WRONG WITH THESE PICTURES?
By Deborah Smith Parker
I love those outdoor catalogs, although I find it odd
That they all project an image of some movie set facade.
The layouts hint of camping, the sellers hope you buy it,
But it really looks to me as if they're camping at the Hyatt.
Something critical is missing from each Pima cotton shirt;
So what's wrong with these pictures? They never show us dirt.
The scenes they choose to stage in each up-scale catalog
Were surely never taken after portage through a bog.
No one's posed in old canoes parked on some beaver dam
Eating sandwiches of Rye-Krisp with cold and slimy Spam.
They're never shown in clothes with rips nor look like they perspire,
And photos never show them fishing dinner from the fire.
That shiny, glossy cookware with its black enamel sheen
That was featured in a special on a page from L.L. Bean
Never seems to show the crust and other kinds of crud
From being washed in rivers and scrubbed with gritty mud.
Have you noticed that the models from Land's End and Eddie Bauer
Always have such happy faces, they never seem to glower?
Their sleeping bags were never wet, those people look carefree;
They're never shown in shoulder sling from chopping down some tree.
Something else about these pictures, wood is neatly cut and stacked
Like it just came from some suitcase that a valet likely packed.
Models bask in bugless paradise, they never gasp or cough
'Cause some mosquito crazed companion sprayed their closed tent full of Off!
Looking rested as they lounge in their polished cotton shorts
You know they never stayed awake to think, "what makes those snorts?"
They're so well put together, everything is de rigueur,
Telling us there are no problems with the proper clothes to wear.
For camping I'll hit K-Mart, better yet, some surplus store
With cheap and rough-hewn clothing from some long out-dated war.
Oh, I'll still shop their catalogues, I'll still make that call
To buy their smashing outfits I wear hiking through the mall.
Comments
No comments made yet. Be the first to submit a comment
By accepting you will be accessing a service provided by a third-party external to https://astrologicuspress.com/